Top 10 Places for Fish and Chips in Westminster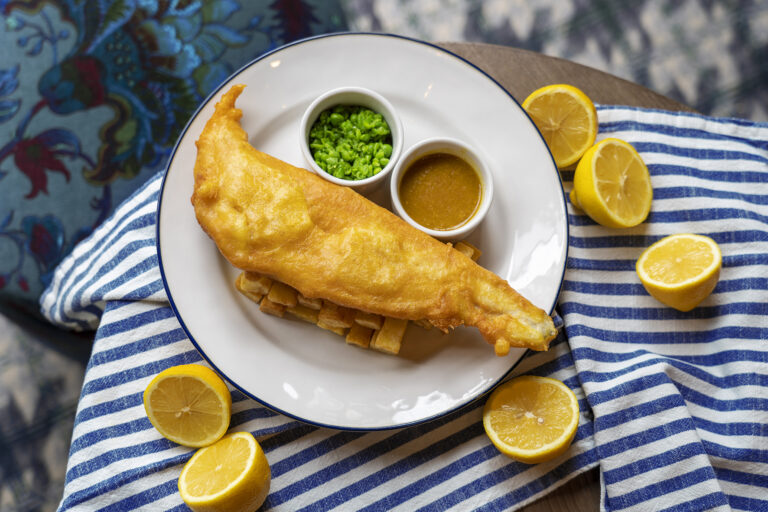 When it comes to traditional British fare, fish & chips has to be right up there as one of the best examples of British cuisine, albeit with its origins in Jewish immigrants from Spain and Portugal who settled in the East End of London in the 1860s.
British fish & chips is lightly battered fresh fish, deep fried to a golden crispness on the outside with moist white flesh on the inside. Usually cod or haddock, the fish comes with tartare sauce, mushy or garden peas, a mountain of fluffy chips, scattered with salt and a dash of malt vinegar, ketchup or curry sauce.  Heavenly!
The UK has a long-standing tradition of fish and chip shops, there are over 10,000 of them today, but nowadays you can get amazing fish & chips from pubs, bars and restaurants too.
Here's our roundup of the very best places for fish & chips in Westminster, London:
1. Blue Boar Pub
45 Tothill Street, Westminster, London, SW1H 9LQ
Check out Blue Boar Pub if you're looking to explore the rich history of Westminster's pubs.  This is a contemporary take on the classic London pub in the historic location of the Conrad London St James hotel in the Westminster village.
The pub is the winner of the Best Pub & Bar in Greater London at the 2022 National Pub & Bar Awards, and the 'One to watch' Award 2022, Estrella Damm Top 50 Gastropubs.  With an emphasis on fresh British ingredients leading chef Sally Abé is responsible for the menus at Blue Boar Pub. Her fish & chips dish is beer-battered Cornish cod with thick cut chips, crushed peas and chip shop curry sauce. Perfect!
2. The Laughing Halibut Victoria
38 Strutton Ground, Westminster, London, SW1P 2HR
According to TripAdvisor, this is the number one specialist fish and chip shop in the area.  A long-established family business, the fried and grilled fish is exceptional, with loyal customers regularly returning to the Laughing Halibut Victoria.
3. Seafresh Victoria
80-81 Wilton Road, London, SW1V 1DL
Offering 'modern flavours from the sea', Seafresh does great traditional fish & chips, alongside a delicious menu of fresh shellfish and fish dishes.
4. The Sanctuary House
33 Tothill Street, London, SW1H 9LA
A well-known Westminster spot for British pub fare, as well as the traditional beer battered haddock and chips, you can also enjoy whitebait, fish fingers and fish cakes.
5. Adam & Eve St James
81 Petty France, St James, London SW1H 9EX
An 18th-century pub with original features and beer garden in the heart of Westminster. Serving real ales and traditional food in a family-friendly environment, Adam & Eve offers Atlantic cod with thick-cut chips and mushy or garden peas, or you could for their wholetail Whitby Scampi.
6. The Clarence Whitehall
53 Whitehall, Westminster, London, SW1A 2HP
An elegant and traditional British pub with a historic charm. The Clarence prides itself on the best fish & chips, pies, and Sunday roasts, proper real ales, and a back bar boasting 25 gins.
7. The Red Lion Pub Parliament Street
48 Parliament Street, London SW1A 2NH
Situated in London's political heart, The Red Lion delivers a diverse experience across three grand floors, with a dining room capturing the glorious grandeur of a Victorian Gin Palace. Specialising in pies, Red Lion Pub also serves great fish and chips – beer battered haddock with triple cooked chips.
8. St Stephen's Tavern
10 Bridge Street, London SW1A 2JR
Offering a warm and friendly welcome since 1875 – this traditional Westminster pub is the perfect place to relax, eat and drink in central London.  Serving crowd-pleasing food, fish & chips heads their 'home comforts' dishes.
9. Great British Fish & Chips County Hall
Westminster Bridge Rd, London, SE1 7PB
Next to the London Eye, a short walk over Westminster Bridge, Great British Fish & Chips honours British culture through its speciality dish, fish & chips. The restaurant pays homage to the royal family, and the famous British national treasures with walls are adorned with their images.
10. The Feathers
18-20 Broadway, London, SW1H 0BH
Hand-battered haddock can be enjoyed with chips, and the optional addition of wholetail Scottish scampi at this historic traditional British pub that's close to St James's Park. The Feathers is revered for its eclectic range of real ales and its quality pub food, served with a generous measure of famous British hospitality.